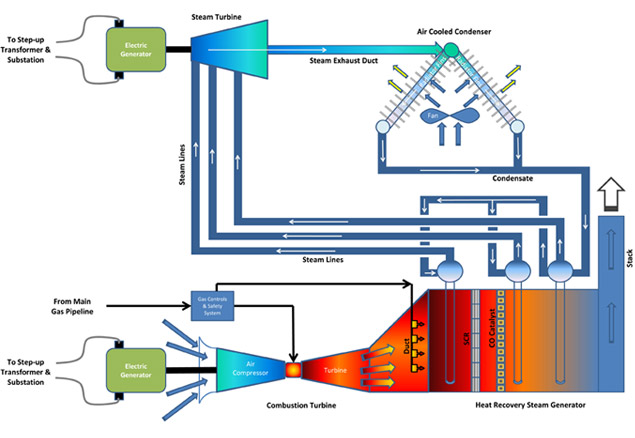 Facts About Carroll County Energy
Following are vital Energy, Environment, Employment and Economic facts and figures about Carroll County Energy:
ENERGY
Carroll County Energy  is a natural gas electric generation facility.
The facility produces over 700 megawatts, enough to power 750,000 homes.
State-of-the-art General Electric turbine technology began service in late 2017.
Combined-cycle design produces electricity efficiently – capturing waste heat to create additional electricity in the steam turbine. (See diagram.)
ENVIRONMENT
"Efficient generation from a small footprint" – facility occupies approximately 17 acres of cleared land set back from Route 9 with electrical and gas interconnections immediately adjacent to the site.
Generating equipment is powered by natural gas only. Domestic natural gas is acknowledged as the bridge for America's cleaner energy future.
The facility meets National Ambient Air Quality Standards that protect public health and the environment and will produce half the carbon dioxide and 90 percent less sulfur dioxide and nitrogen dioxide of a conventional coal-fired power plant.
Air-cooled condensers minimize water consumption and wastewater discharge.
EMPLOYMENT
The facility has 22 full time, site based employees.  Ethos Energy Group is the O&M operator.
Routine services are provided by local engineering and maintenance companies.
ECONOMIC
Carroll County Energy represents an $800 million capital investment.
An Enterprise Zone Agreement provides long-term, stable, local tax revenue.
Water and sewer services are provided through a long-term contract with the Village of Carrollton.
Long term benefits to Carroll County economy from direct purchase of goods and services.
Positive impact from direct, indirect and induced economic benefits.